Tuesday, July 31, 2012
And - rather like the transport system where the anticipated chaos has (so far) failed to materialise - it looks as though the networks came through Friday night very well. Since then, however, some technology problems have surfaced.
On Friday, I wrote about the challenge facing the mobile phone networks as the Olympics got underway, and a huge volume of texts tweets and other traffic threatened to clog them up.
On the Olympic Park, the investment in extra capacity in the form of 30 masts and one of the world's best wi-fi networks, has paid off. The 80,000 spectators and volunteers pumped out photos, tweets, texts and calls without problems. Vodafone says its network saw data usage from the stadium equivalent to the sending of 400,000 smartphone pictures.
Across the country, predictions that it would be a busy but not exceptional night for mobile networks proved accurate. Vodafone says that while data volume was up by 5% on the previous week, the volume of calls and texts was about the same. With 27 million watching the opening ceremony on television, it seems that many were using their home broadband rather than their mobiles to connect.
But it was a different story on Saturday, when a million people took to the streets of south-west London and Surrey to follow the men's cycling road race. It seems they were making constant use of their phones to update Facebook and Twitter and to send photos - and that is being blamed for the fact that vital race data, apparently travelling over the same mobile networks, was slow to reach the commentators.
Last night saw a technical problem of a more embarrassing nature for one of the Olympic sponsors. Visa is using the Games to try out some new technology, principally a mobile payments system on a Samsung Galaxy smartphone, and at one stage there were ambitions to make this the first cashless Olympics.
Privately, the networks say they were never asked by the games organisers to provide an "Olympic lane" for race data traffic, so they cannot be blamed for any problems.
But at Wembley, where the Great Britain football team was playing the UAE, the whole Visa system appeared to collapse - and spectators found that good old fashioned cash was the only way to pay for their purchases.
Visa says it was Wembley's systems, not theirs, that failed: "The cash-only decision was made by Wembley management and not Visa."
But the prize for the single most embarrassing Olympics technical failure so far must go to the American television network NBC. For anyone of an even slightly geeky bent, one of the highlights of the opening ceremony was the appearance of Sir Tim Berners-Lee, the creator of the World Wide Web. "This is for everyone," was the
message he sent via Twitter
to the world from the stadium.Still, it is another sign that the road to a cashless economy is going to be strewn with potholes.
"Who he?" was the reaction of the NBC commentators. They went on to suggest that viewers should Google Berners-Lee to find out more.
An operation which, as many people swiftly pointed out, would have been impossible if a great British scientist had not come up with an idea he called the web more than 20 years ago.
Saturday, July 21, 2012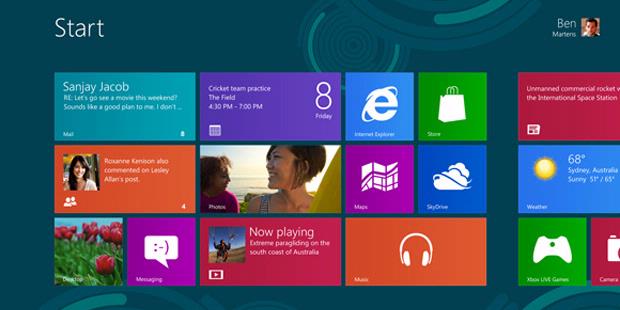 microsoft
Tampilan layar "Start" pada antarmuka Metro milik Windows 8 Release Preview
Microsoft akhirnya memberi kepastian bahwa sistem operasi Windows 8 akan tersedia mulai 26 Oktober 2012. Hal itu diungkapkan Microsoft pada Rabu (18/7/2012) waktu setempat.
Pengumuman ini berarti pada tanggal tersebut konsumen seharusnya sudah bisa membeliupgrade ke Windows 8 atau Windows 8 Pro. Upgrade itu akan tersedia dalam bentuk kepingan retail ataupun melalui unduhan di internet.

Selain itu, pengguna akan bisa mendapatkan Windows 8 saat membeli perangkat komputer baru, seperti laptop dan lainnya dari produsen yang menggunakan Windows 8.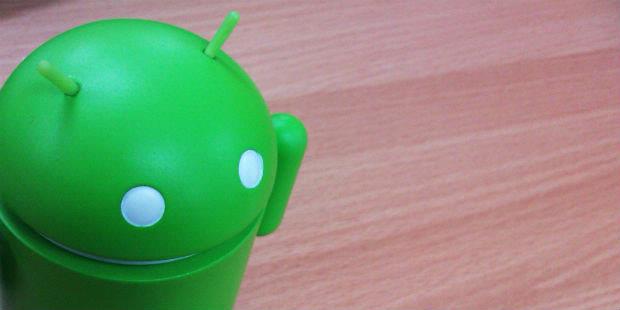 Sistem operasi
mobile
besutan Google, Android, dan para produsen ponselnya kerap terlibat dalam kasus hukum sengketa hak paten. Yang paling santer terdengar adalah perang paten antara Apple dan Samsung, yang berlangsung sejak 2010 di sejumlah negara.
Bukan hanya Apple yang sering menggugat, perusahaan software Microsoft pun beberapa kali menggugat produsen Android.

Sebenarnya, paten apa saja yang dipermasalahkan Apple dan Microsoft? Seorang aktivis hak kekayaan intelektual, Florian Mueller, yang memiliki blog paten teknologi FOSS Patent, membuat daftar 11 paten Apple dan Microsoft yang dianggap dilanggar oleh Android.

1. Patent EP2059868: Portable electronic device for photo management

Ini merupakan paten yang menjelaskan tentang metode geser jari untuk melihat foto-foto di Gallery. Dengan paten ini, Apple menggugat Samsung di Pengadilan Kota Den Haag, Belanda, pada 24 Agustus 2011. Apple juga menggugat Motorola Mobility di Pengadilan Daerah Munich, Jerman, pada Maret 2012.

2. U.S. Patent No. 7,469,381: List scrolling and document translation, scaling, and rotation on a touch-screen display

Pengguna Android tentu pernah menggunakan aplikasi e-mail yang jika ingin me-refresh pesan, bisa dilakukan dengan cara menggulirkan jari ke arah bawah layar sentuh smartphone. Dengan cara ini, pesan-pesan terbaru akan muncul.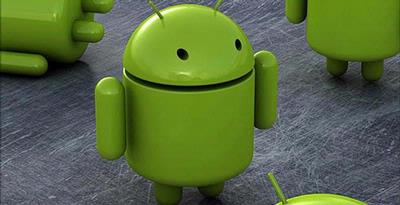 Perkembangan sistem operasi besutan Google, Android yang pesat ternyata turut menambah tebal dompet Microsoft - yang notabene merupakan pesaing dari Google.
Hari Senin (9/7/2012) lalu, raksasa software itu mengumumkan bahwa dua produsen Android telah menandatangani perjanjian lisensi paten untuk perangkat berbasis Android dan Chrome.
Dengan "bergabungnya" dua produsen tersebut, Microsoft kini mendapat pemasukan berupa royalti yang dibayar oleh lebih dari 70 persen perangkat Android yang beredar di Amerika Serikat.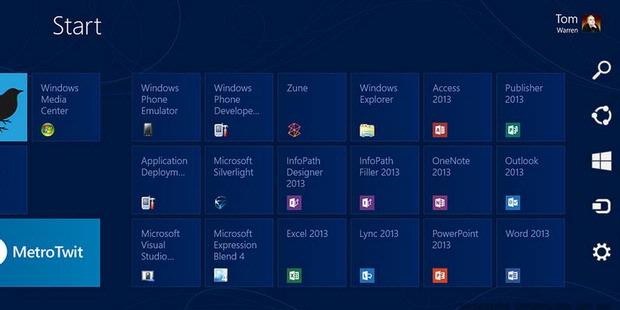 Software Microsoft Office 2013 ternyata hanya kompatibel dengan PC, laptop, atau tablet yang menjalankan sistem operasi terbaru Microsoft, di antaranya Windows 7 dan Windows 8. Office 2013 diperkenalkan oleh CEO Microsoft Steve Ballmer hari Senin (16/7/2012) kemarin.

Komputer dengan sistem operasi Windows Vista, XP atau versi lain yang lebih tua tak bisa menjalankan suite produktivitas terbaru dari Microsoft tersebut. Artinya, mayoritas komputer berbasis Windows yang ada di seluruh dunia harus memperbarui versi Windows sebelum bisa mencicipi fitur-fitur baru pada Office 2013.

Fitur-fitur yang ditanamkan Microsoft pada Office 2013 antara lain integrasi fungsi Skype dan Yammer, dukungan input touch-screen, serta fungsi penyimpanan berbasis cloud SkyDrive yang memungkinkan dokumen Office bisa diakses dari perangkat apapun dan dari manapun penggunanya berada.

Data dari analis pasar Net Applications menunjukkan bahwa 51 persen PC masih memakai sistem operasi Windows XP atau Vista, sementara Windows 7 memiliki pangsa pasar sistem operasi sebesar 42 persen.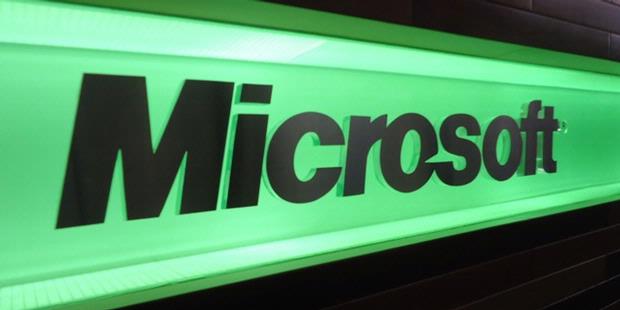 Aditya Panji/KOMPAS.com
Microsoft
KOMPAS.com - Untuk kali pertama semenjak go-public, raksasa software Microsoft mencatat kerugian. Di kuartal keempat tahun fiskal 2012 yang berakhir pada 30 Juni Microsoft melaporkan kerugian sebesar 492 juta dollar AS.

Kerugian tersebut disebabkan pengurangan nilai buku (write-down) sebesar 6,2 miliar dollar AS, yang dipicu oleh gagalnya investasi perusahaan tersebut di perusahaan iklan aQuantive yang dibeli Microsoft tahun 2007. aQuantive kalah bersaing dengan lawan-lawannya, antara lain Adsense online milik Google.

Saham Microsoft pun mencatat penurunan nilai untuk pertama kalinya sejak didaftarkan di bursa, sebesar 0,06 dollar AS atau 6 sen.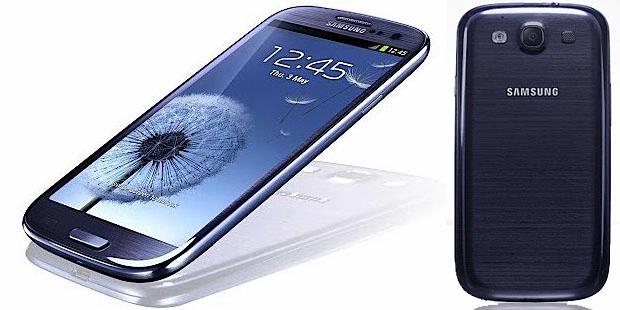 KOMPAS.com - Setelah mendepak Nokia dari posisi produsen ponsel nomer satu di dunia, angka penjualan smartphone Samsung semakin jauh meninggalkan rival besarnya, Apple.

Seperti dijelaskan oleh hasil polling 41 analis yang dikutip oleh Reuters, kesuksesan Samsung tersebut antara lain berkat permintaan yang besar atas model smartphone flagship Samsung, Galaxy S III.

Samsung juga melakukan kampanye marketing dalam skala besar untuk mendukung penjualan produk itu.

Samsung dan Apple saling bersaing selama beberapa kuartal dalam hal penjualan smartphone terbesar, tetapi Galaxy S III yang diluncurkan bulan Mei lalu telah menempatkan Samsung pada posisi di atas angin.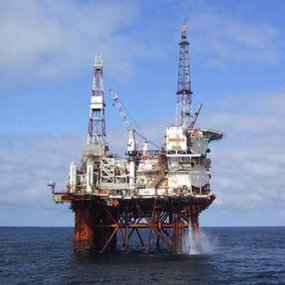 Caracas - Salah satu perusahaan milik negara Venezuela, PDVSA, memfinalisasi kontrak senilai US$ 2 miliar (Rp 18 triliun) dengan Chevron, raksasa migas Amerika Serikat (AS). Tujuannya untuk menggenjot produksi minyak Venezuela.

"PDVSA dan Chevron sudah sepakat menyuntikkan dana US$ 2 miliar oleh Chevron ke Petroboscan," kata BUMN itu dalam keterangan tertulis yang dikutip AFP, Jumat (20/7/2012).

Dana investasi tersebut akan diberikan secara bertahap kepada Petroboscan yang menggarap blok migas Boscan sampai 2025 nanti. Diharapkan produksi minyak Boscan bisa terus bertambah.

Chevron memegang 40% kepemilikan saham Petroboscan, sementara PDVSA menguasai 60% sisanya. Presiden Venezuela Hugo Chavez memang sudah mengeluarkan aturan bahwa perusahaan asing yang menggarap sumber daya alam negaranya harus menjadi pemegang saham minoritas.
Steve Jobs dan Mark Zuckerberg (ist)
California, AS
 - Apple di era kepemimpinan Steve Jobs ternyata sempat mencoba peruntungannya di bisnis jejaring sosial. Namun keinginan 
co-founder
Apple itu terpaksa dikubur dalam-dalam sejak Mark Zuckerberg hadir dengan Facebook-nya.
Steve Jobs diketahui memang mengagumi Mark Zuckerberg. Itu juga alasannya, mendiang pendiri Apple ini tidak mau lagi membuat jejaring sosial. Menurutnya, Zuckerberg telah melakukan yang terbaik dengan Facebook. 
dikutip dari 
Business Insider, 
Sabtu (21/7/2012) hal ini terungkap dari pemaparan Walter Isaacson, penulis buku biografi Steve Jobs saat berbicara di hadapan publik beberapa waktu lalu.
"Saya pernah bertanya, siapakah yang dia kagumi di Sillicon Valley. Zuckerberg adalah nama pertama yang terucap dari bibirnya," kata Isaacson seraya menyebutkan, Jobs dan Zuckerberg adalah dua sosok hebat yang saling mengagumi.
Jadwal Puasa 2012 | Jadwal Imsakiyah Ramadhan 2012 1433 H . Pada postingan kali ini saya akan menginformasikan kepada anda tentang Jadwal Puasa 2012 dan Jadwal Imsakiyah 1433 H . Nahjadwal Imsakiyah 1433 H yang akan saya share ini sudah sangat lengkap , mencakup berbagai kota di indonesia seperti :
Jadwal Puasa Ramadhan 1433 Hijriyah di Kota JakartaJadwal Puasa Ramadhan 1433 Hijriyah di Kota BandungJadwal Puasa Ramadhan 1433 Hijriyah di Kota CirebonJadwal Puasa Ramadhan 1433 Hijriyah di Kota TasikmalayaJadwal Puasa Ramadhan 1433 Hijriyah di Kota TangerangJadwal Puasa Ramadhan 1433 Hijriyah di Kota Serang BantenJadwal Puasa Ramadhan 1433 Hijriyah di Kota BekasiJadwal Puasa Ramadhan 1433 Hijriyah di Kota SemarangJadwal Puasa Ramadhan 1433 Hijriyah di Kota Surakarta, SoloJadwal Puasa Ramadhan 1433 Hijriyah di Kota YogyakartaJadwal Puasa Ramadhan 1433 Hijriyah di Kota PurwokertoJadwal Puasa Ramadhan 1433 Hijriyah di Kota BanyumasJadwal Puasa Ramadhan 1433 Hijriyah di Kota MalangJadwal Puasa Ramadhan 1433 Hijriyah di Kota SurabayaJadwal Puasa Ramadhan 1433 Hijriyah di Kota JemberJadwal Puasa Ramadhan 1433 Hijriyah di Kota KlatenJadwal Puasa Ramadhan 1433 Hijriyah di Kota MedanJadwal Puasa Ramadhan 1433 Hijriyah di Kota BengkuluJadwal Puasa Ramadhan 1433 Hijriyah di Kota Padang Sumatera BaratJadwal Puasa Ramadhan 1433 Hijriyah di Kota AcehJadwal Puasa Ramadhan 1433 Hijriyah di Kota RiauJadwal Puasa Ramadhan 1433 Hijriyah di Kota MakassarJadwal Puasa Ramadhan 1433 Hijriyah di Kota BanjarmasinJadwal Puasa Ramadhan 1433 Hijriyah di Kota BalikpapanJadwal Puasa Ramadhan 1433 Hijriyah di Kota PontianakJadwal Puasa Ramadhan 1433 Hijriyah di Kota PalangkarayaJadwal Puasa Ramadhan 1433 Hijriyah di Kota GorontaloJadwal Puasa Ramadhan 1433 Hijriyah di Kota AmbonJadwal Puasa Ramadhan 1433 Hijriyah di Kota WamenaJadwal Puasa Ramadhan 1433 Hijriyah di Kota Jayapura

Nah , jika anda ingin melihat lebih lengkapnya . Silahkan lihat dan cari kota anda lewat tabel di bawah ini :
Jadwal Puasa Ramadhan 2012 / 1433 H
Nah , sudah sangat lengkap bukan . Sekian informasi tentang Jadwal Puasa 2012 | Jadwal Imsakiyah Ramadhan 2012 1433 H yang dapat saya sampaikan . Semoga informasi ini bermanfaat . Terima Kasih. - Jadwal Puasa 2012 | Jadwal Imsakiyah Ramadhan 2012 1433 H .
Secara bahasa (etimologi) berarti : menahan.Menurut istilah syara' (terminologi) berarti menahan diri dari perkara yang membatalkan puasa mulai terbit fajar sampai terbenamnya matahari dengan niat tertentu.
Dasar wajib puasa:
يَا أَيُّهَا الَّذِينَ آَمَنُوا كُتِبَ عَلَيْكُمُ الصِّيَامُ كَمَا كُتِبَ عَلَى الَّذِينَ مِنْ قَبْلِكُمْ لَعَلَّكُمْ تَتَّقُونَ
Hai orang-orang yang beriman, diwajibkan atas kalian berpuasa sebagaimana diwajibkan atas orang-orang sebelum kalian agar kalian bertakwa, (Al-Baqoroh 183)
Puasa diwajibkan pada bulan Sya'ban tahun kedua hijriyyah.
Hikmah puasa : menahan hawa nafsu, mengurangi syahwat, memberikan pelajaran bagi si kaya untuk merasakan lapar sehingga menumbuhkan rasa kasih sayang kepada fakir miskin, dan menjaga dari maksiat.
Thank You !!
"Terima Kasih Telah Mengunjungi Blog Ini"
Semoga informasi yang tersedia disini dapat bermanfaat bagi kita semuanya.. :)