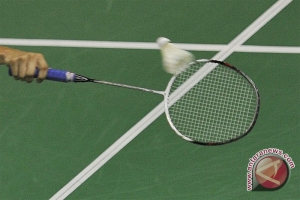 badminton sports
The former countered pebulu silver medalist Nathan Robertson urged the Badminton World Federation (BWF) to crack down on a play that occurred in the two branches of badminton match at the 2012 Olympics in London in the women's doubles.
The former countered pebulu mainstay of the United Kingdom is one of the many people who were surprised by what happens on the field during the women's doubles match in progress.
According to Robertson, which may be a world class shuttlers pebulu incompetent to serve, many times the service is done caught in the net, and the blows which made a lot of inaccurate, out of the field lines.
In fact, on one game, no hitting (rally) is more than four strokes.
And Robertson demanded that the BWF and the International Committee of the Olympic Games (IOC) quickly took action. See More>>
"It's embarrassing, and it must be stopped," said Robertson.
"Doing a play, by pretending to succumb on the field is often the case. I've even been in a game like that. But it is a shame when this happens at the Olympics," he said.
"It's time to take action and possibly BWF IOC could also consider whether this violated the rules of fair play," he added.
Some observers have expressed the match referee Torsten Berg has memperingatan to pebulu countered early on that they could be disqualified for not playing maximum.
Berg's statement seems to be the wind through, because when the women's doubles match, the pair pebulu parry China Yu Yang and Wang Xiaoli surprisingly lost much of South Korean couples who can not even be seeded, ie, Jung Kyung Eun and Kim Ha Na.
"We are certainly qualified, then why should not waste the energy?" Yu said.
"It does not matter if we have to play a maximum when the knockout phase (by knockout) will start tomorrow," he added.
There is a tendency to say the couple refused to play up on the field as to avoid meeting with their compatriots, the pair Tian Qing and Zhao Yunlei, who finished second in their group.
Head coach of South Korea Sung-Kook Han commented, "It was not the spirit to compete in the Olympics if they play like this. How could the world's number one partner to play like this?"
Berg even said to have shown a black card (which means the termination of the game) when the match between the pair Je Ha and Kim Min Jung against the women's doubles pair Greysia Polii mainstay of Indonesia and Meiliana Jahari. The decision was finally revoked.
"We are currently investigating this case seriously and as a referee, I have to take decisions and make a report to be submitted to BWF," said Berg.
Meanwhile, former pebulu shuttlers from Indonesia gold medalist Taufik Hidayat has other problems. Due to the time difference is too much, Taufik feel sleepy when competing.
Taufik said he was not even a person who can get up early. Taufik to date has already qualified for the quarterfinals and will face his nemesis, Lin Dan, after defeating Spain pebulu parry Pablo Abian 22-20, and 21-11.
"I've never played in the morning," said Taufik rackets will be hung after competing in the Olympics.
"It's too early for me. I'm not the one who can get up early. Tubuhn I'm still adjusting, adapting," he added.
The former countered pebulu who had been ranked the world's first Tine Baun had another impression for competing in the 2012 Olympics.
Baun also made it through to the quarter-finals after defeating Anastasia Prokopenko, ranked the world to-37 from Russia, with a score of 19-21, 21-15, and 21-16.
"I'm relieved. But I did not play up. I was pretty nervous, but keep the spirit. They support me to keep fighting," he said, as quoted by AFP.
Furthermore, Baun will fight Sayaka Sato, from Japan, who beat Britain pebulu countered daughter Susan Egelstaff through a tight match.
Pebulu countered the other favorite, Pi Hongyan of France, was born in China but also through to the quarter-finals after bulldoze Ireland Chloe Magee pebulu countered with a score of 16-21, 21-18, and 21-14. Pi will face further Sung Ji-Hyun from Korea.