London - North Korea Lifter, Om Yun Chol, a sensation Sunday London time by matching the world record and a new Olympic record in men 56kg number 2012 London Olympics.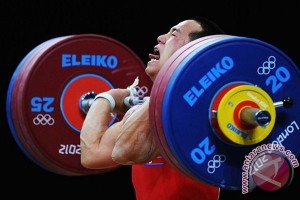 Competing in Group B, Om became one of five people in history who can lift three times his own weight. This branch medal competition increasingly fierce.
Om lifting barbells weighing 168kg, one kg heavier than the gold medalist Halil Mutlu three medals at the 2000 Sydney Olympics, and match the lifter force Turkey to the European Championships 2011.
Weight lifters from North Korea Yun Chol Om a new Olympic record set at the group stage number 56kg clean and jerk class of 2012 London Olympics. (london2012)
He then won the best armed Snatch 125kg, so collecting a total of 293kg force. Its closest competitor, so Setiadi Indonesia lifter who has logged a total of 277kg force.