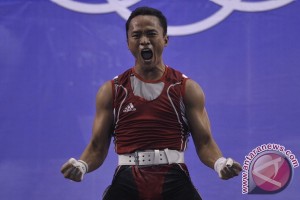 Lifter Indonesia Triyanto
Branch back weightlifting medal accounted for as contingent Indonesia Triyatno won the silver medal in the 69kg class with a 333kg total force.
Olympic bronze medalist in Beijing 2008 that resulted in a total force Snatch and 145kg clean and jerk 188kg at Excel London.
Triyatno said he did not believe it can achieve a silver medal because he was only able to make the armed Snatch 145kg, while other participants are much heavier than him, but he was able to close it with the clean and jerk 188kg force although they had with great difficulty.
Branch of judo, the athlete Indonesia I Putu Wiradamunggu Adesta directly eliminated in the preliminary-81kg class after losing to Hungary Laszlo Csoknyai athlete at Excel London.
Meanwhile, from the badminton courts, besides the good news that the entire cast of Indonesia qualified for next round, there was an embarrassing case when the women's doubles Indonesia Greysia Polii-Meiliana Jauhari suspected unsportsmanlike actions by trying to beat the game because it avoids a certain opponent.
Problems began when the Group A match between China Wang Xiaoli partner Yu Yang-ganda against Korea Jung Eun-Kyung Kim Ha Na in which both partners are each other down.
Later a similar incident occurred an hour later in the Group C match between Indonesia partner Greysia Polii-Meiliana Jauhari against Ha Jung Eun-Kim Min Jung.
Events enrages fans packing Wembley Arena in a two-game tournament referee forced entry into the field and give warning to the players, the referee even had a black card issued as a warning sign.
At the end of badminton officials held a meeting on Tuesday night to determine the action to be taken related to the case.
On Wednesday, Indonesia athletes who will compete are all numbers except the men's doubles badminton.
In addition, the archer Ika Yuliana Rochmawati Indonesia will continue its action in the Lord `s Cricket Ground in the elimination round against China Fang Yuting athletes.
Another branch is a fencing match Wednesday at the Excel London. Indonesia Diah Permatasari athletes will fight U.S. athlete Mariel Zagunis in the number of individual saber.