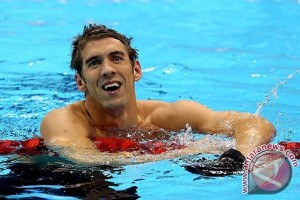 Michael Phelps (london2012)
U.S. swimmer Michael Phelps London Tuesday night (Wednesday morning local time) made ​​history as the athlete who won 19 medals during his debut at the Olympics, after winning gold in the final part number 4x100m relay.
In the previous game, 27-year-old swimmer won a silver medal at the numbers 200m butterfly.
In the final 200m butterfly, gold does not fall into the hands of Phelps and won the South African swimmer, Chad le Clos, while the bronze went to Takeshi Matsuda of Japan.
Meanwhile, teenagers China, Ye Shiwen, again won gold in the 200m individual medley.
Other U.S. swimmers, Allison Schmitt won the 200m freestyle final. He led from start to touch the board early finish in 1 minute 53.61 seconds, according to reports in the official page of the 2012 London Olympics.