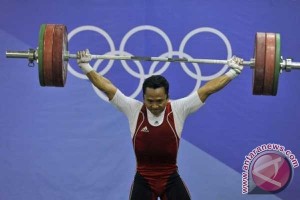 Lifter putra Indonesia Triyatno
Indonesia the fourth day of the 2012 Olympic silver medal from the additional gain lifter Triyatno of 69kg class, Eko Yuli Irawan after, also from weightlifting, presented a bronze for Indonesia.
Triyatno recorded a total of 333kg force at Excel London. London, Wednesday local time, on the lifter Romania, but under Chinese lifter who won gold in that branch.
This medal is enough additional hoist Indonesia's position in the list of Olympic medalists in 2012, at least into the top spot in Southeast Asia, Thailand is a new achievement beyond obtaining a silver
Following the acquisition of Olympic Medals Table London 2012 (Rating, Country, Gold, Silver, Bronze, Total) :